Social distancing means, it's time for binge-watching TV shows and day drinking, and what better way to do that by watching the iconic show, The Golden Girls. Nothing dispels the sense of panic than by watching four beloved women and their hilarious misadventures. You can now sip on some cocktails this summer straight out of tiki mugs of the Golden Girls themselves. Gather your girlfriends, and your favorite Golden Girl tiki mug as you virtually get together on video chat and spend some quality time together from your respective homes. But if just one mug doesn't do it for you, who's to say you can't have all four?
Geeki Tikis have released a new line of The Golden Girls tiki mugs just in time for summer. The mugs are made of durable ceramic that is built to last. They come with amazingly detailed features of the characters including Blanche's long strand of pearls and Sophia's glasses. The set comes with Dorothy Zbornak (Bea Arthur) in green, Rose Nylund (Betty White) in yellow, Blanche Devereaux (Rue McClanahan) in red, and Sophia Petrillo (Estelle Getty) in blue.
The mugs can hold 16 to 18 ounces of your favorite drink, depending on the Golden Girl. The description of the mug on Amazon reads, "Each Geeki Tikis mug is designed to bring your favorite hobbies together; mixed drinks and The Golden Girls!" You can now get a taste of how it is like to live in sunny Miami and this "collectible mug is perfect for delivering an extra round of quick-witted sarcasm." These tiki mugs are available at $25.99 each, and the set of four costs $98.99 which you can purchase from Toynk. The official description reads, "Strong-willed Dorothy, cranky matriarch Sophia, spacey Rose, and lusty Southern belle Blanche - these Geeki Tiki mugs hold 16-18 ounces of your favorite beverage. Get your favorite character, or buy the whole set. Whatever you decide, thank you for being a friend!"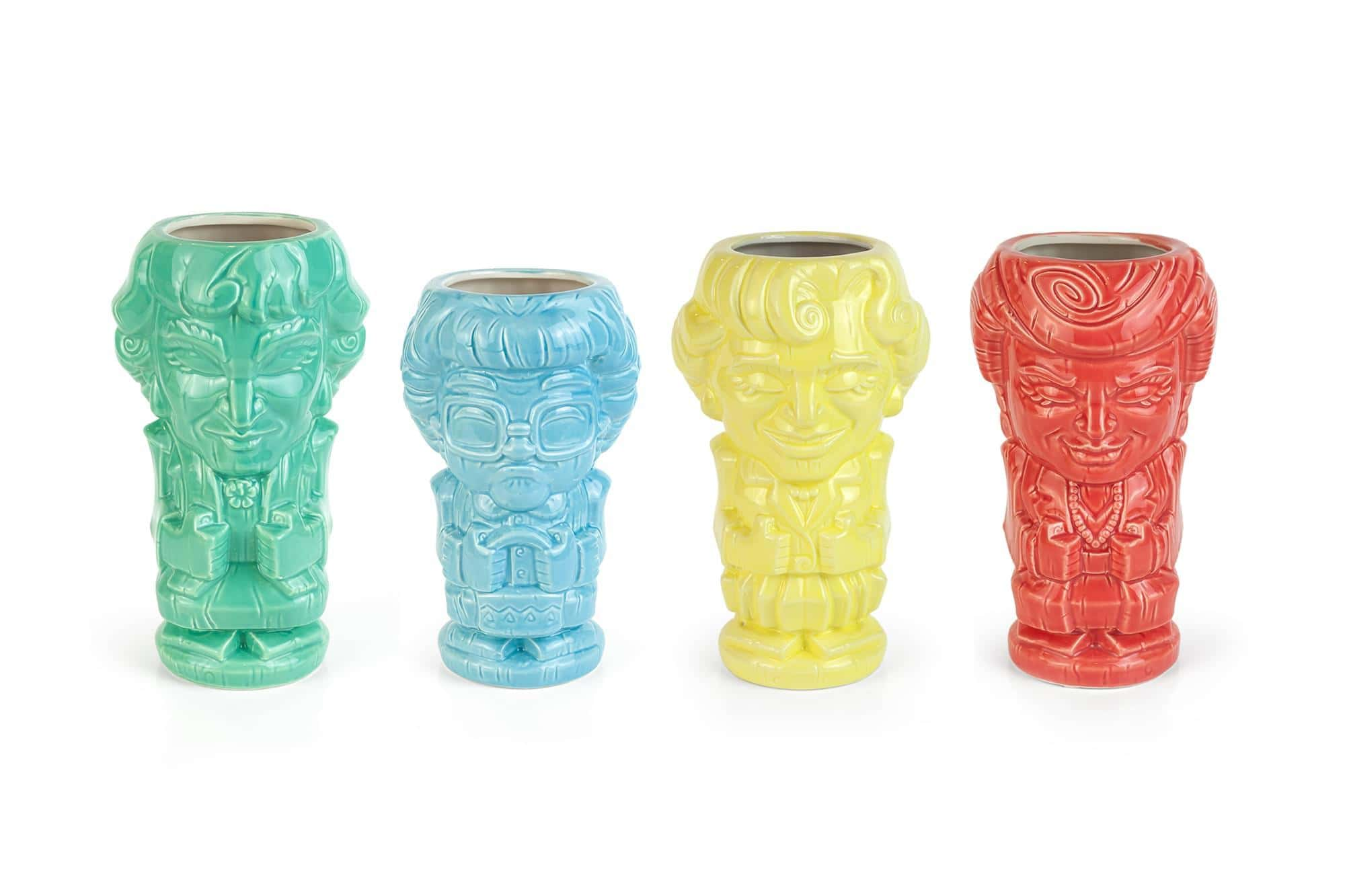 The Golden Girls ran for seven seasons and had a total of 180 episodes. Each episode is half an hour long and if you are fully committed to the binge-watch life, you can finish the entire series in less than five days. A perfect way to start an early weekend, wouldn't you agree? Kick back and unwind with Rose, Dorothy, Sophia, Blanche, and your favorite mixed drinks. If you want cocktail inspiration, you can go here. Additionally, you can even get The Golden Girls collectible wine glasses and shot glasses to add to your collection.
If you have never watched the show, it's a comedy series that follows four elderly women and their life in Miami. The women include three widows and one divorcee who find each other and live together in their Miami Beach house as they navigate through the ups and downs of life. According to the description of the show's characters on Hulu, "Bea Arthur plays Dorothy, a divorced school teacher, with a sardonic wit. Rue McClanahan plays Blanche, a man-hunting Southern Belle. Betty White plays Rose, a very sweet woman who is somewhat spacey. Rounding out the trio is Estelle Getty, playing Dorothy's outspoken mother, Sophia." The show first aired in 1985 and ran successfully till 1992. There is no better way to celebrate your love for the iconic series than by bringing home four of the finest Miami's girls home this summer.