Reddit is a frequent refuge for those seeking advice—specifically r/relationship_advice, where people ask for help with their dilemmas about, you guessed it, relationships. One Redditor recently posted about an issue where she recently realized, as many of us do, that her closest family members who had cared for her through her entire life were more than a little prone to racial discrimination. The woman explained that she had been raised by her grandparents since she was 8 years old, and that they were wonderful people - but that they had recently met her boyfriend, who is Black, and did not approve of him.
She explained that her boyfriend had recently proposed to her, and that's when her grandparents blatantly explained that they had a problem with his race, even though he was a good man who was more than well-positioned in his life.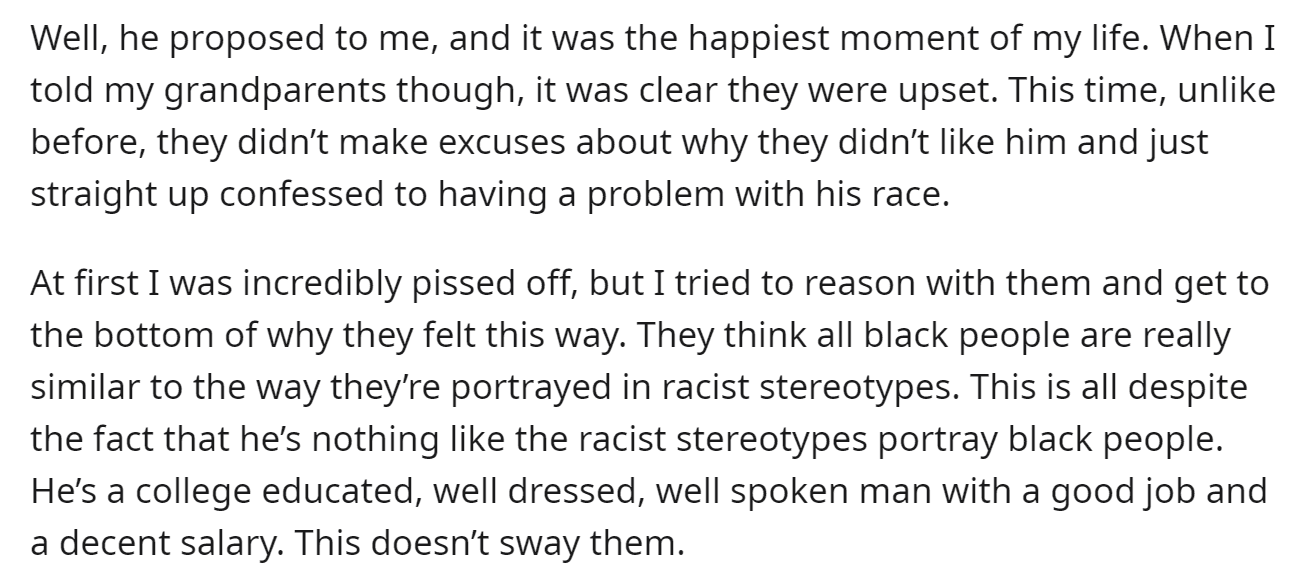 The woman added that she was particularly confused by her grandparents' reaction since her mother was Asian, and she herself was biracial. "They were apparently not only okay with their son marrying an Asian woman, they loved her like she was their own daughter," she wrote. "They're also really good friends with my maternal grandparents, who are from Korea/Singapore." She added that all of her friends had told her to cut her grandparents out of her life, but that she couldn't bear to lose a relationship with the people who had raised her, and neither could she lose her now-fiancé.
The distressed Redditor asked for advice, adding that she'd already spoken to her maternal grandparents, who were "much more direct" about their issues with her fiancé.
Several people stepped up with advice, and most of them stated the obvious - that she needed to have an honest talk with both her grandparents and her fiancé. Many who had been in similar situations pointed out that it was probable that her fiancé already knew what was going on. "Whatever you do, don't put him in the middle," said one person.
And it looks like their advice was sound! A few days later, the Redditor posted an update, explaining that she'd spoken to her fiancé and that he was surprisingly calm about it, having had a similar experience before.
"His cousin had come out as gay a few years back, and he told me how his own grandparents reacted very poorly to his cousin's revelation. He told me they absolutely refused to acknowledge the fact that he was gay and said some pretty hurtful stuff along the lines of how his homosexuality would embarrass them in front of all their family and friends etc," the Redditor explained, going on to add that Sam's grandparents had slowly come around to his cousin's husband. "He then showed me pictures of his grandparents laughing along with his cousin's husband, pictures of them at his cousin's wedding, etc. He told me they eventually grew out of it and as they go to know him they really bonded with the guy." She added that her fiancé was determined to win over her grandparents—and he did!

The Redditor decided to update the post at a turning point in the relationship where she realized that her dream had, in fact, come true.