There have been countless articles and reports in recent years about the benefits of being outdoors and close to nature. It is hard to deny that greenery does soothe your soul and helps your stress quietly slip away. However, a lot of people who live in cities often miss out on all the good that comes from plants and trees unless they have a green thumb and decide to fill their home with plants. High levels of toxin in the air can really play a hand in increasing stress and anxiety. There are several plants that can help improve air quality and alleviate a host of mental health concerns that include anxiety, depression, and panic attacks. The beautifully aromatic jasmine plant that comes in many varieties is one of them according to researchers. It is advisable to spend time around a jasmine plant and breathe in its many benefits to help calm yourself down.
Whether you have an affinity for nurturing plants or not, jasmine is worth investing time and effort in. Researchers have uncovered a host of beneficial reasons why you should have this regal fragrant flowering plant at home. It has already been found that there is a correlation between stress and oxygen levels. Add soothing aroma to the mix and it's hardly a mystery that researchers determined that breathing in jasmine can positively impact mental health and improve your mood in general. The findings of the study have been published in the Journal of Biological Chemistry according to The Telegraph.
Professor Hanns Hatt from the Ruhr University in Bochum, Germany who led the study, stated that the research "can be seen as evidence of a scientific basis for aromatherapy." To arrive at their conclusion that the fragrance of jasmine could be a better and natural alternative to medication, scientists observed mice who had been exposed to the aroma of a jasmine plant, in addition to jasmine essential oil. They found that the mice significantly calmed down and ceased all activity. The mice had chosen to keep still and quiet in a corner and did not appear agitated. This prompted scientists to dig further and gather evidence of jasmine's ability to markedly calm those who inhale its pleasing fragrance.
Upon conducting brain scans on their tiny test subjects, the researchers discovered that the fragrance of jasmine undeniably augments the effects of a chemical named GABA on nerve cells. This chemical reaction is what helps relieve anxiety and stirs up the desire to be still and rest. Prof. Hatt explained, "We have discovered a new class of GABA receptor modulator which can be administered parentally and through the respiratory air. Applications in sedation, anxiety, excitement, and aggression relieving treatment and sleep induction therapy are all imaginable."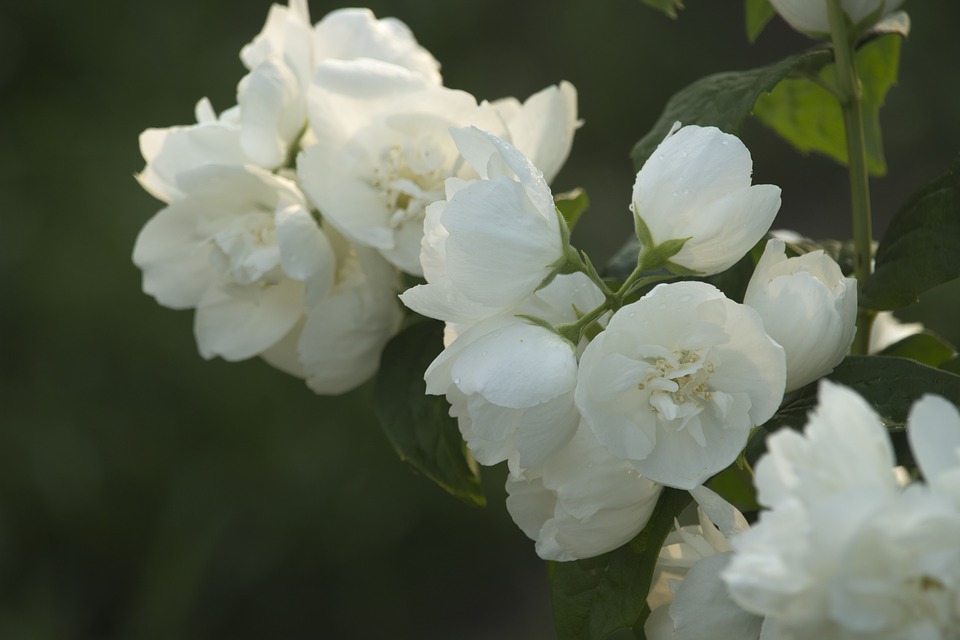 It was determined that jasmine can help:
- Reduce anxiety and nervous tension
- Boost mood
- Improve cognitive performance and alertness
- Improve sleep quality
- Balance hormones
- Treat hot flashes and mood swings
- Increase libido
Jasmine could very well prove to be more effective than sleeping pills, anti-anxiety medications, and sedatives considering it increased the effect of GABA by over five times that of its pharmaceutical competition. All it takes is a few drops of jasmine essential oil to get better sleep, improve concentration, ease mild depression, and soothe spasms, among other modern-day afflictions. According to Kaliana.com, "Research at Wheeling Jesuit University by Dr. Bryan Raudenbush, assistant professor of psychology, shows dispensing jasmine odor into a room where participants were sleeping led to greater sleep efficiency and reduced sleep movement." Which means even if you don't sleep longer, you will certainly sleep better. So, if you're looking for a natural remedy to make life less stressful and introduce some serenity in your life, get yourself a jasmine plant, or indulge in its essential oil.
Disclaimer : This article is for informational purposes only and is not a substitute for professional medical advice, diagnosis, or treatment. Always seek the advice of your physician or other qualified health provider with any questions you may have regarding a medical condition.