Hilarious Mother's Day Cards For A Potty-Mouth Mum You Should Definitely Know About
Well, we all love a mother who can be a bit of a rebel. But we love her even more for putting up with our s**t.
Mothers and swearing are stereotypically not associated with each other. More often than not, when a child hears their mother swear they will definitely stop in their tracks. But there are always exceptions to the rule. Some women with children are divas with a potty mouth.
Timothy Jay, a professor at Massachusetts College of Liberal Arts and Kristin Janschewitz, an assistant professor at Marist College, even found that swearing did little to no harm to children or to people in general. They found the word itself is not harmful. It is the usage of the word i.e. HOW and in what context the word is used that causes the harm. For instance, if you use expletives to verbally and emotionally reprimand your child, it will definitely leave emotional scars on them. However, if you drop something or stub your toe and swear in reflex, then it isn't bad.
So with Mother's Day right round the corner(May 12), Etsy came out with a line of cards that honor your mom who swears like a m*****f***ing boss!
1. Can't argue with that!
2. Of course, it is! Why else would she be swearing so much?
3. Yas Queen!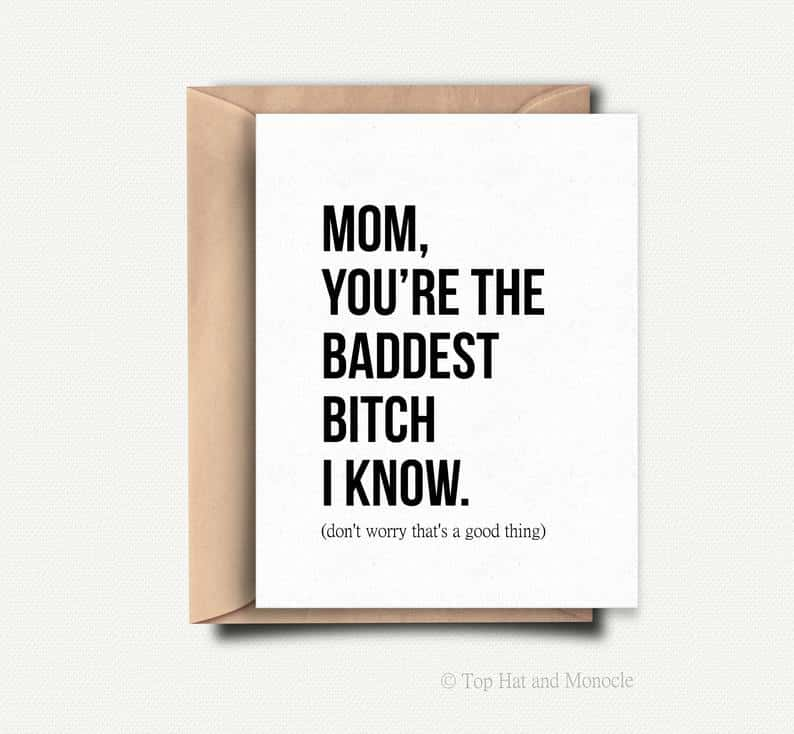 4. Like mother, like child
5. Lady Swears-A-Lot is glad to make your acquaintance
6. I pretty much-made hats a fashion statement back in school
7. Truth bombs, F-bombs, Mom's got an arsenal
8. Aww
9. Oh yeah, baby!
10. The best manners of all!
11. "I told you so": Every mom's favorite words
12. Ouch, that hurt literally!
13. Aren't I just the best gift you ever got? *angel emoji*
14. And for cleaning my bum and throwing the diaper away...
15. You are the Jimi Hendrix of Moms, I tell you
16. Hi! My name is Crap Bag
17. Always were, always will be
18. Wouldn't have it any other way
19. You abso-***king-lutely are!
20. And, of course, how can we miss the classic!