It sure did seem like a very special premiere of his new movie titled 'The Mule' for Clint Eastwood, as he had quite a special and large support team with him. It was, of course, a very special moment for him, too, as he was returning to the industry after a long hiatus of six years. The veteran actor was joined by three of his seven kids: sons Kyle, 50, and Scott, 32, and daughter Alison, 46. His first wife, Maggie Johnson, granddaughter, Graylen, and longtime girlfriend, Christina Sandera, were also in attendance, posing for pics with the family, says ET Online. A special occasion does call for a very special entourage. 
But, Clint Eastwood also seemed to be bringing a lot of skeletons out of his closet as he was seen posing with his 'secret daughter' Laurie, whom he allegedly fathered during an illicit affair in the past. The family looked happy and was full of smiles as they posed for photographs at the Regency Village Theatre. The 88-year-old Oscar-winning actor was seen wearing a green blazer, blue dress shirt, dark pants, and a tie, and the happiness on his face was quite evident, probably because this was a special moment and most of his family had taken the effort to come together for him, irrespective of their differences.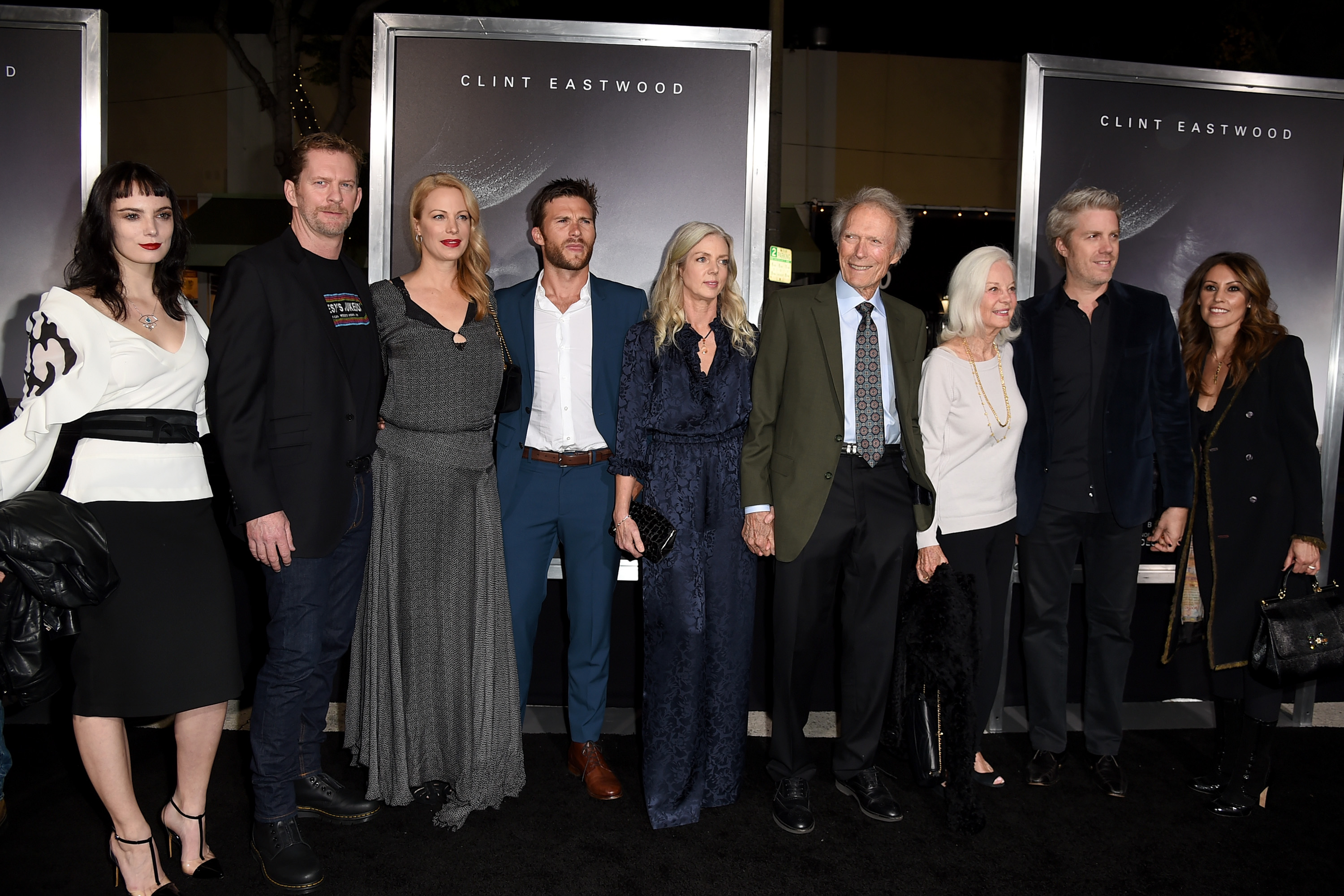 Clint Eastwood was seen standing next to his ex-wife Maggie Johnson to whom he was married between the years 1953 and 1984, along with his current girlfriend Christina Sandera, whom he has been dating since 2014. Eastwood and Sandera stood side-by-side holding hands during the entire time they were being photographed. The Eastwood brothers and Stacy Poitras all sported blazers. His granddaughter Graylen wore a white belted blouse and black skirt and looked absolutely regal.
---
 

 

View this post on Instagram

 
---
Eastwood's 'The Mule' marks his return to the movie industry after six long years, His last movie was in 2012, titled 'Trouble with the Curve'. Clint has directed and starred in his new movie, which is based on the true story of Leo Sharp, a World War II hero turned drug runner. Basically, he plays the role of an unassuming man who gets caught up in drug trafficking. Surprisingly, his daughter, Alison Eastwood also stars in the movie, making it extra special for him.
---
 

 

View this post on Instagram

 
---
ET Online spoke to the actor on the red carpet, and he spoke about the movie that will hit the screens on December 14. He explained why he wanted to tell the compelling story. "I just read the script and I was curious about it, about the real guy," said Clint. "Nobody knows much about him, really. So this story isn't about him ... but we're guessing as to what it is." Well, we will only know more about the movie when it's out. 
---
 

 

View this post on Instagram

 
---
It is touted that this movie is based on the real-life story of Leo Sharp, who became the country's oldest drug mule when he got busted for cocaine trafficking at the age of 87 years in 2011. Sharp would reportedly smuggle in cocaine to the country for Mexican drug lord El Chapo and the notorious Sinaloa cartel. This movie has got Clint quite busy because aside from acting in it and directing the movie, he is also producing it. What a way to make a comeback into the industry!
---
 

 

View this post on Instagram

 
---
A recent piece by the New York Post speaks about how Leo, the gardener, became El Chap's unlikely partner. But actually, he was kind of the best idea that Chapo had. Because like Sharp's lawyer said: "I don't think state troopers and highway patrolmen were suspicious of an elderly man driving cross-country." But, shockingly, in 2010 alone, Sharp delivered more than a ton of white powder — enough for some 7.25 million people to each snort a line. That is A LOT of cocaine that the old man has managed to smuggle across borders. 
---
 

 

View this post on Instagram

 
---
But it all came crashing down when the 87-year-old great-grandfather was found transporting 104 bricks of ­cocaine in the trunk of his Lincoln pickup. As an officer popped the lock and opened the hatch, Sharp reportedly had just three words: "Oh, my God." Sharp was born in 1924 and he was raised in Michigan. At the age of 11, he started working alongside his alcoholic father in the local coal mines. According to documents, Sharp did not have a smooth childhood. Documents suggest that Sharp had to skip school at a young age, but he returned to graduate, and soon after, entered the US Army and served as an infantryman during World War II. Fighting in Italy, he survived the Battle of Mount Battaglia while his captain and many fellow soldiers perished. In acknowledgment of his bravery and heroism, Sharp received a Bronze Star. From there, to being a drug dealer, he did come a long way. 
---
 

 

View this post on Instagram

 
---
But he did not make the transition immediately. He found an interest in gardening by the mid-1990s, and Sharp had emerged as a master cultivator of daylilies, creating eye-catching flower hybrids at his Brookwood Gardens floral company, situated on a 46-acre farm near Michigan City. Sharp cultivated some 180 official varieties of lilies, but his business reportedly experienced a downturn when customers began buying seeds via the Internet and he did not adapt to the digital world. Some suggest that it was one of the helpers that had introduced him to the cartel. 
---
 

 

View this post on Instagram

 
---
It also looks like Sharp was not completely new to smuggling things across borders. During the early 2000s, it has been alleged by the federal government in courtOccasion drove marijuana and cocaine east from the West Coast for an unknown entity. But what fun is it to reveal the entire story, because the movie will be out soon and it's good to leave some suspense so you can go to the theatres and then catch the film to know the rest of the story!